As the festival season is about to begin, starting with Onam, Navaratri, Diwali & Dussehra, most of the rangoli enthusiasts are geared up to find gorgeous rangoli designs.
We all crave beautiful rangoli designs, especially at festivals. So in this article, I will share my views about 3 ways to find & learn beautiful rangoli designs. Let's begin!
1. Rangolism
I'm sure most of you haven't heard this word before. This is a new app on play store for all rangoli lovers. Rangolism have beautiful and easy designs across varieties like Dotted, Sikku kolam, Mandalas, Freehand, Padi kolam, Side rangoli and many more.
The best part is, It animates rangoli and shows you easy step-by-step details. This makes it easier for anyone to learn and make rangoli, even for kids.
Download the app on Play store
Pros:
Shows step-by-step details of any rangoli

Variety of collections at one place

A lightweight app which loads faster and consumes less data
Cons:
Not for advanced rangoli makers who participate in competitions.

Only available on Android. They might support iOs in the future but not sure.

2. Youtube
The second in the list is Youtube. You can find any video on Youtube including how to make a variety of rangolis. There are some amazing youtube channels by Poonam Borkar, S2 Kolam, 365 Days rangoli and many more who teach you advanced techniques using different tools to make rangoli easily.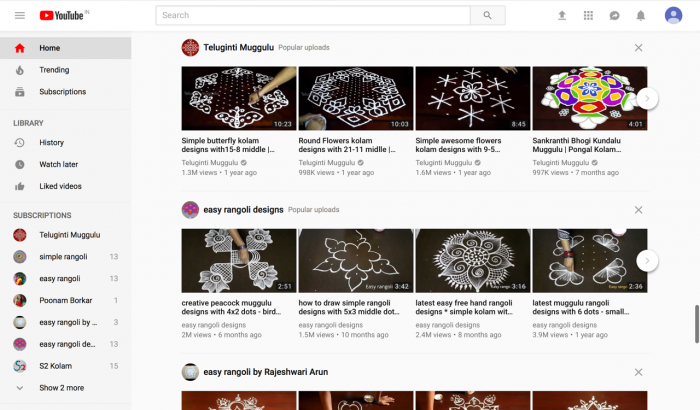 Pros:
A great number of videos with a variety of rangolis.

Teaches you multiple techniques to make rangoli easily.

Tutorials available for both beginners and advanced people.
Cons:
Searching for good rangoli is a bit difficult.

Videos usually consume more data and take time to load.
3. Pinterest
Do you know that you can also find gorgeous rangoli images on Pinterest? You can find great Pinterest boards by iKolam, Nivethitha Sudhakar, Gouri Joshi, Sumana Upadhyaya to name few. Simply search and follow the boards you like or pin the rangolis to your own boards. Don't forget to check flower rangoli boards.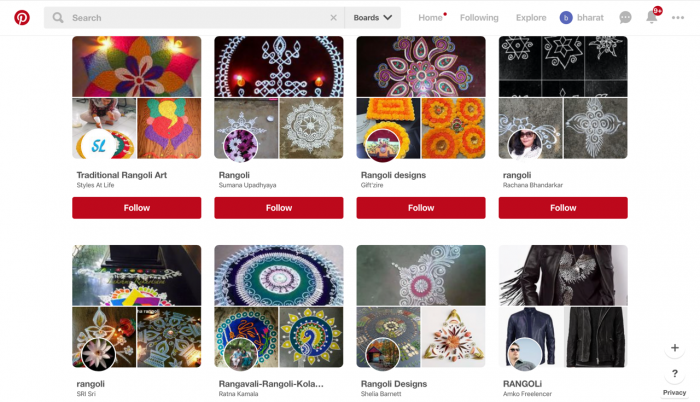 Pros:
Great collections of images

Variety of rangolis
Cons:
You can't make it on your own by looking at pictures unless you are a pro.

Pre-planning is needed.
So, what are you waiting for? Start finding beautiful rangolis and collect them beforehand for upcoming festivals.
Before you go, don't forget to share this with your friends who love rangoli. They might like this 🙂